Awake to what's happening
and aware of what's right.
Despite a number of positive steps forward, LGBTQ people continue to face significant barriers to accessing healthcare services. This includes the discrimination they encounter from insurers and medical providers, as well as the delays or denials of care they face. In addition, in many cases, a lack of federal legislation prohibiting discrimination on the basis of Sexual Orientation and Gender Identity is the primary source of these barriers.
Discrimination against LGBTQ patients continues at the state level, as well. A number of states have passed laws that allow health care providers to refuse to provide certain services, including gender-affirming care or fertility treatments, to their LGBTQ patients because doing so would violate their religious beliefs. This can be dangerous, as it could prevent a person from getting needed care.
The recent introduction of new anti-LGBTQ legislation across the country is a major concern for LGBTQ healthcare advocates. These bills target transgender and nonbinary youth's ability to play sports, receive gender-affirming medical care, use bathrooms that align with their gender identities, and more.
This Week is intended to help the healthcare community advocate for reducing barriers to LGBTQ persons by creating and maintaining safe, inclusive and welcoming environments—and ensuring quality, accessible and non-discriminatory health care.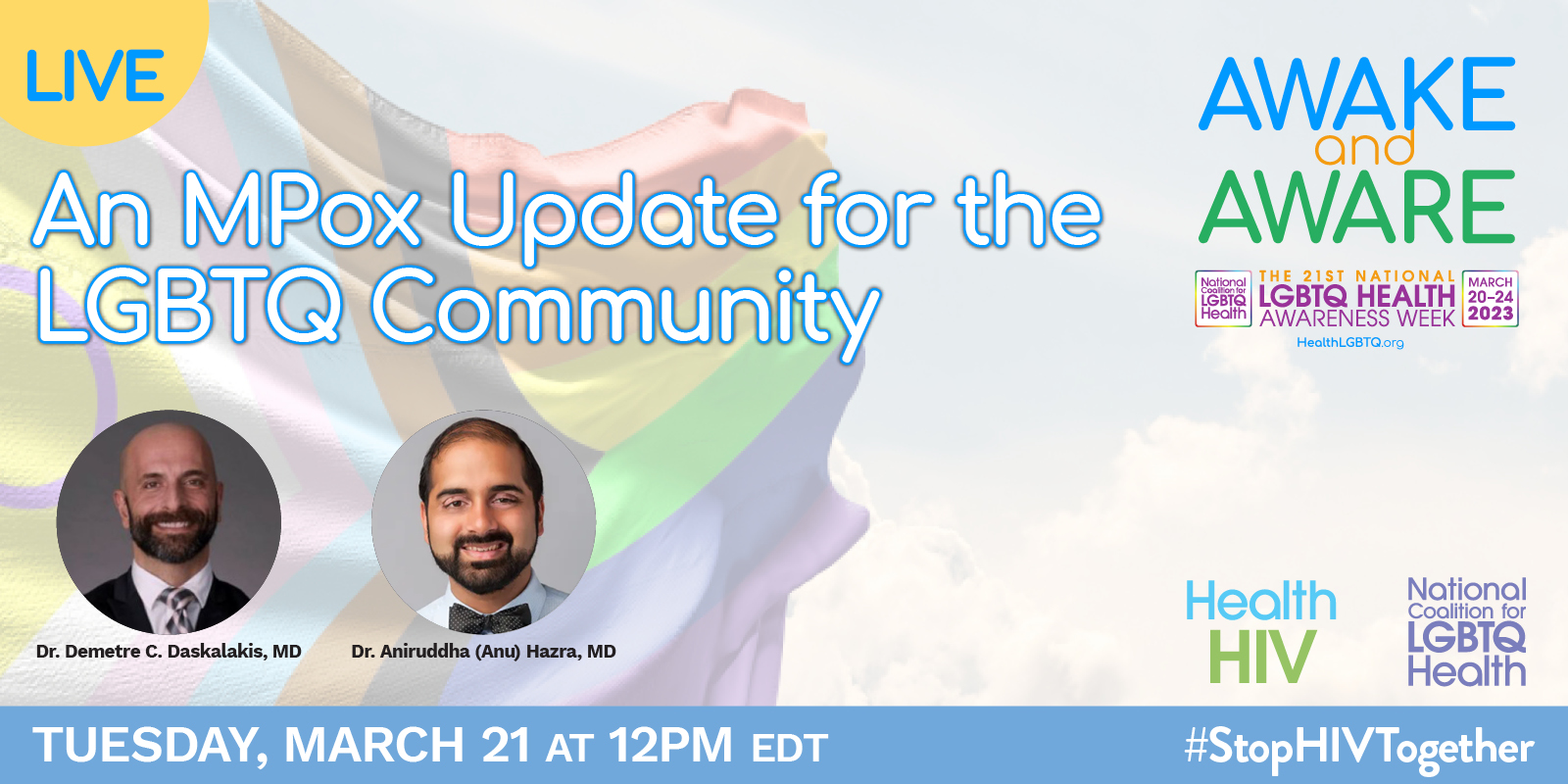 The National Coalition for LGBTQ Health invites you to join us for a special LIVE webinar taking place during National LGBTQ Health Awareness Week 2023 (March 20 – 24). On Tuesday, March 21 from 12:00pm to 1:00pm ET, Dr. Demetre Daskalakis, White House National MPox Response Deputy Coordinator, and Dr. Anu Hazra, physician at Howard Brown Health in Chicago, will provide an update for the LGBTQ community on the current state of the MPox epidemic.
This webinar will update participants on the current state of MPox nearly a year since the first case was confirmed. It will also provide an overview of how the government has responded to MPox. Faculty will review current epidemiological data and consider the impact of MPox in the LGBTQ community from a clinical perspective.
Please note that continuing education credits are not available for this webinar.
Submit Your MPox Questions for the Experts!
A live Q&A session will follow the presentation, featuring YOUR MPox questions for the faculty! To submit a question, register for the webinar by clicking the button above and enter your question in the registration form when prompted.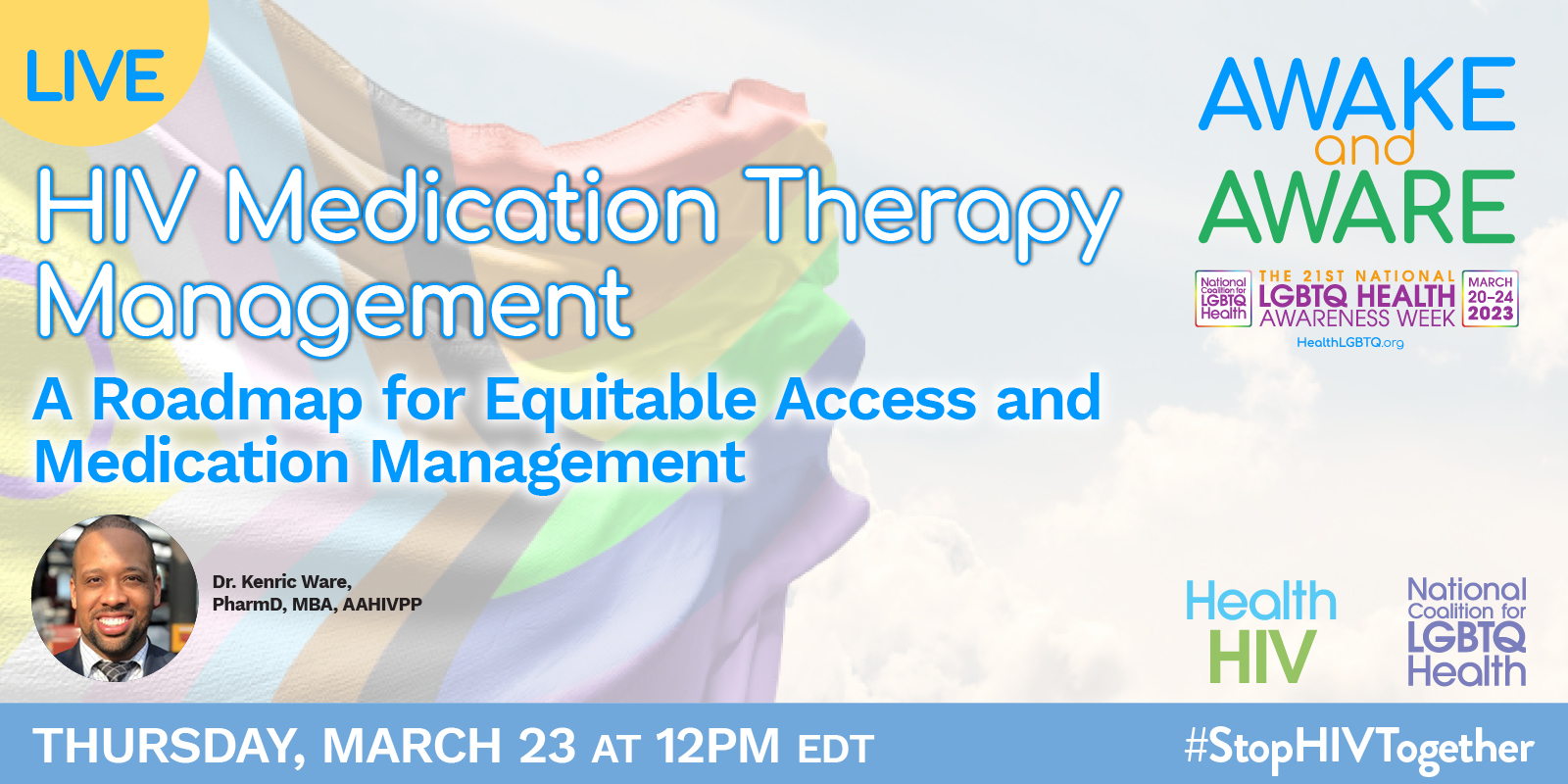 There are an estimated 1.2 million people with HIV (PWH) living in the United States. Current CDC data notes that of these, about 65.9% received some HIV care, of which 50.1% were retained in care and 56.8% had achieved viral suppression or undetectable viral load. Effective HIV treatment involves retention in care and adherence to daily medication regimens. Data shows that equitable access to quality health care and health professionals may be affected by social determinants of health.
In this live, 90-minute webinar on Thursday, March 23 from 12:00pm to 1:30pm ET, expert faculty will present about Health Equity and the Medication Therapy Model (MTM) for medication management. This webinar will inform and reinforce best practices for engaging with consumers about barriers to and facilitators of access to HIV medicines, with the goal of achieving higher rates of medication adherence and healthcare satisfaction.
This series is geared towards community pharmacists serving African American communities, social workers/case managers, and pre-career students (medical school, pharmacy, public health/health sciences), primarily at Historically Black Colleges and Universities (HBCUs).
Please note that continuing education credits are not available for this webinar.