The National LGBTQ Health Awareness Week encourages everyone to speak openly about LGBTQ health, providing an umbrella under which to discuss and raise awareness of mental health, trans health, and ending stigma through accessible, affirming, and inclusive healthcare services so that everyone can fully live their truth.
Support and Share
Let the world know you support LGBTQ health. Share these images and use the hashtag #LGBTQHealth to join the conversations let let the world know about the 20th National LGBTQ Health Awareness Week.
Right-click on the image to download to your device.
Follow Along
Facebook: HealthLGBTQ
Twitter: @Health_LGBTQ
LinkedIn: National-Coalition-for-LGBTQ-Health
Here are a variety of sample social media posts you can use to get the conversation started.
The 21st National LGBTQ Health Awareness Week will take place the week of Monday, March 20, 2023. This year's theme is Awake and Aware. Learn more about #LGBTQHealth Week and how you can participate: https://healthlgbtq.org/awareness-week/
National #LGBTQHealth Awareness Week is intended to help the healthcare community advocate for reducing barriers to LGBTQ persons by creating and maintaining safe, inclusive and welcoming environments—and ensuring quality, accessible and non-discriminatory health care. Find out how you can get involved: https://healthlgbtq.org/awareness-week/
The recent introduction of new anti-LGBTQ legislation across the country is a major concern for LGBTQ healthcare advocates. Join us in celebrating National #LGBTQHealth Awareness Week to promote awareness of these issues and the importance of safeguarding our individual and community rights. Learn more: https://healthlgbtq.org/awareness-week/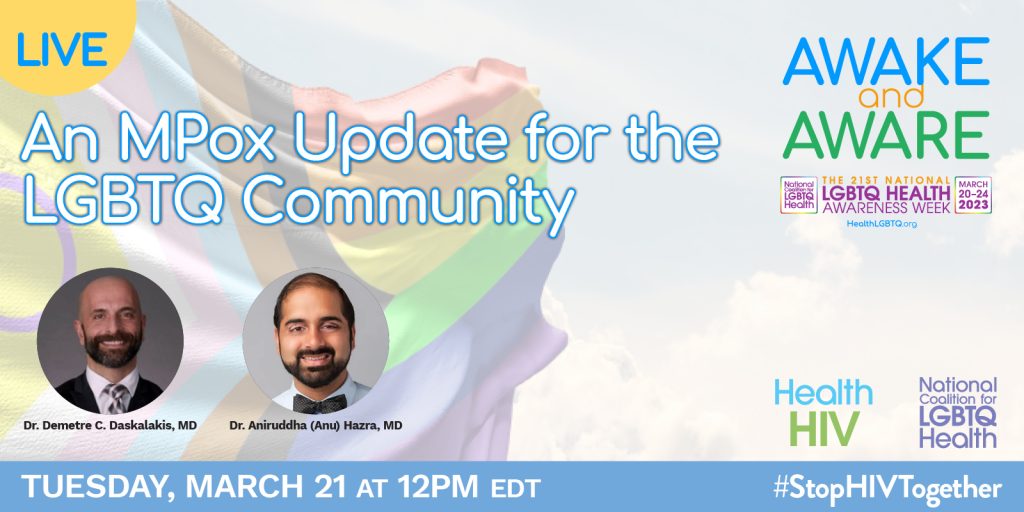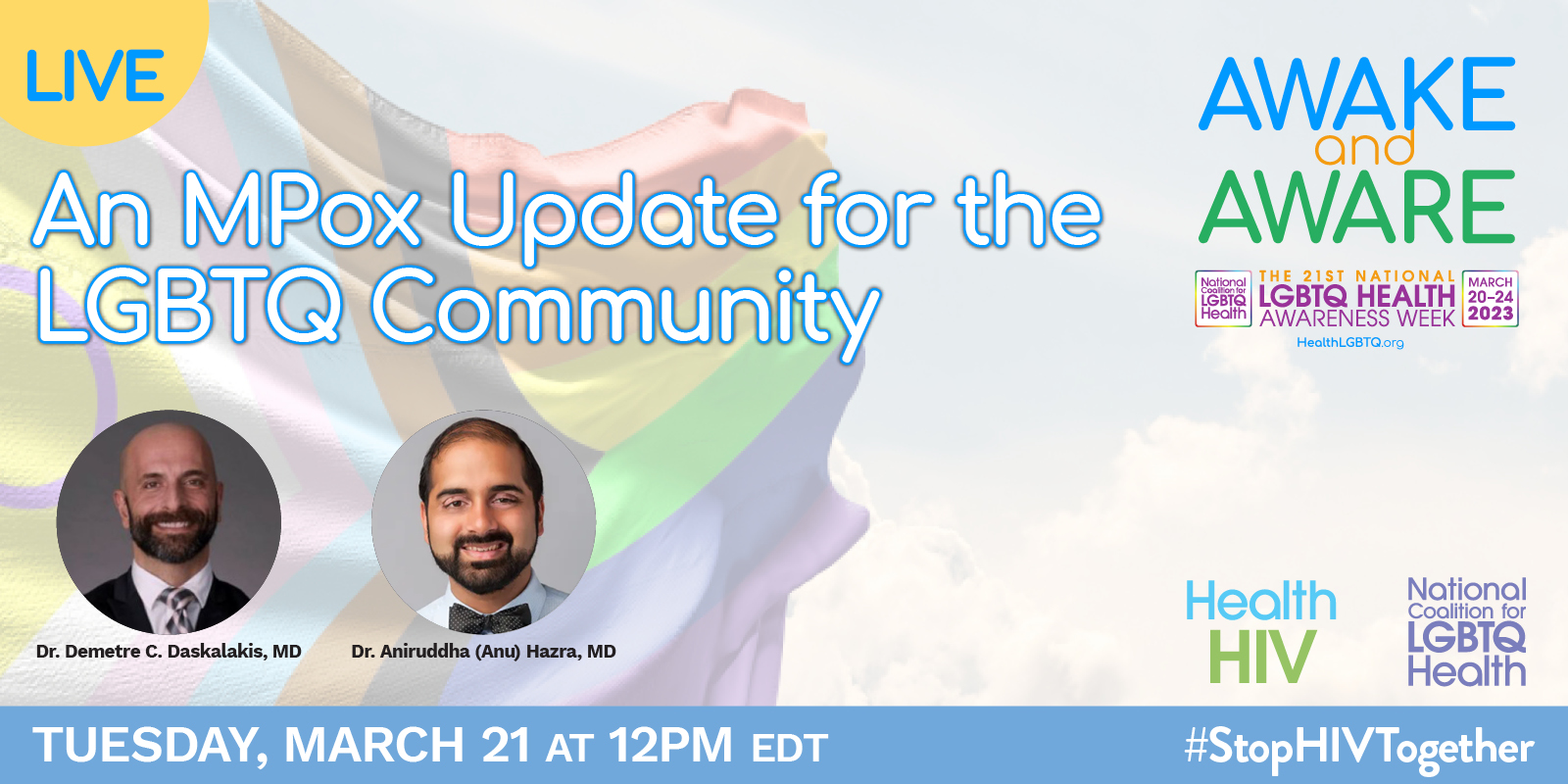 Join @Health_LGBTQ and @HealthHIV for a special LIVE webinar taking place during our National #LGBTQHealth Awareness Week! Happening on 3/21, this webinar will update participants on the current state of #MPOX. Featuring @dr_demetre and @AnuHazraMD. Register today! https://event.on24.com/wcc/r/4143989/DC2F2B1BAFE307F81127A2C25E9D08B0
What is the current state of #MPOX nearly a year after the first confirmed case? Find out from the experts by attending "An #MPOX Update for the LGBTQ Community," a webinar happening on 3/21 at 12pm ET: https://event.on24.com/wcc/r/4143989/DC2F2B1BAFE307F81127A2C25E9D08B0
Hear from @dr_demetre and @AnuHazraMD during the Coalition's National #LGBTQHealth Awareness Week about the impact of #MPOX in the LGBTQ community by attending a special LIVE webinar. Happening 3/21 at 12pm ET: https://event.on24.com/wcc/r/4143989/DC2F2B1BAFE307F81127A2C25E9D08B0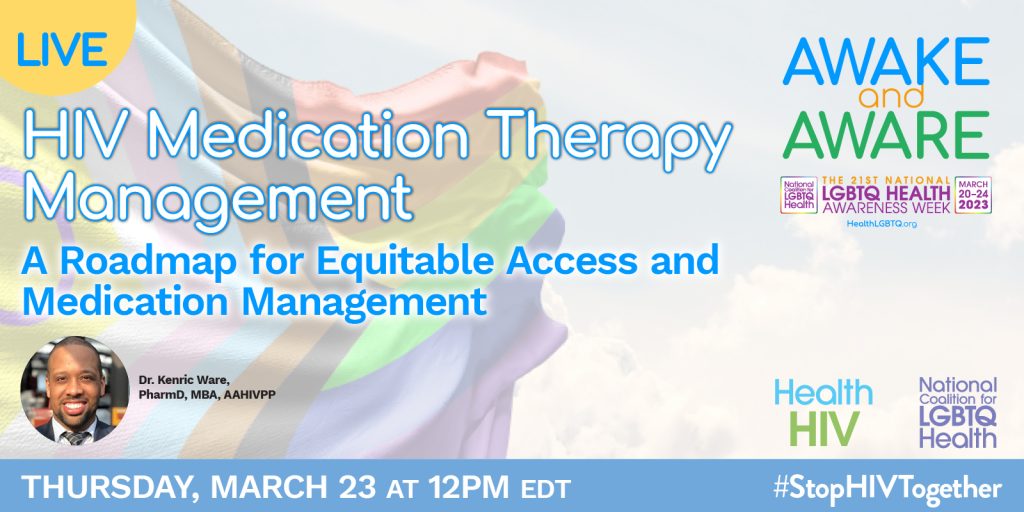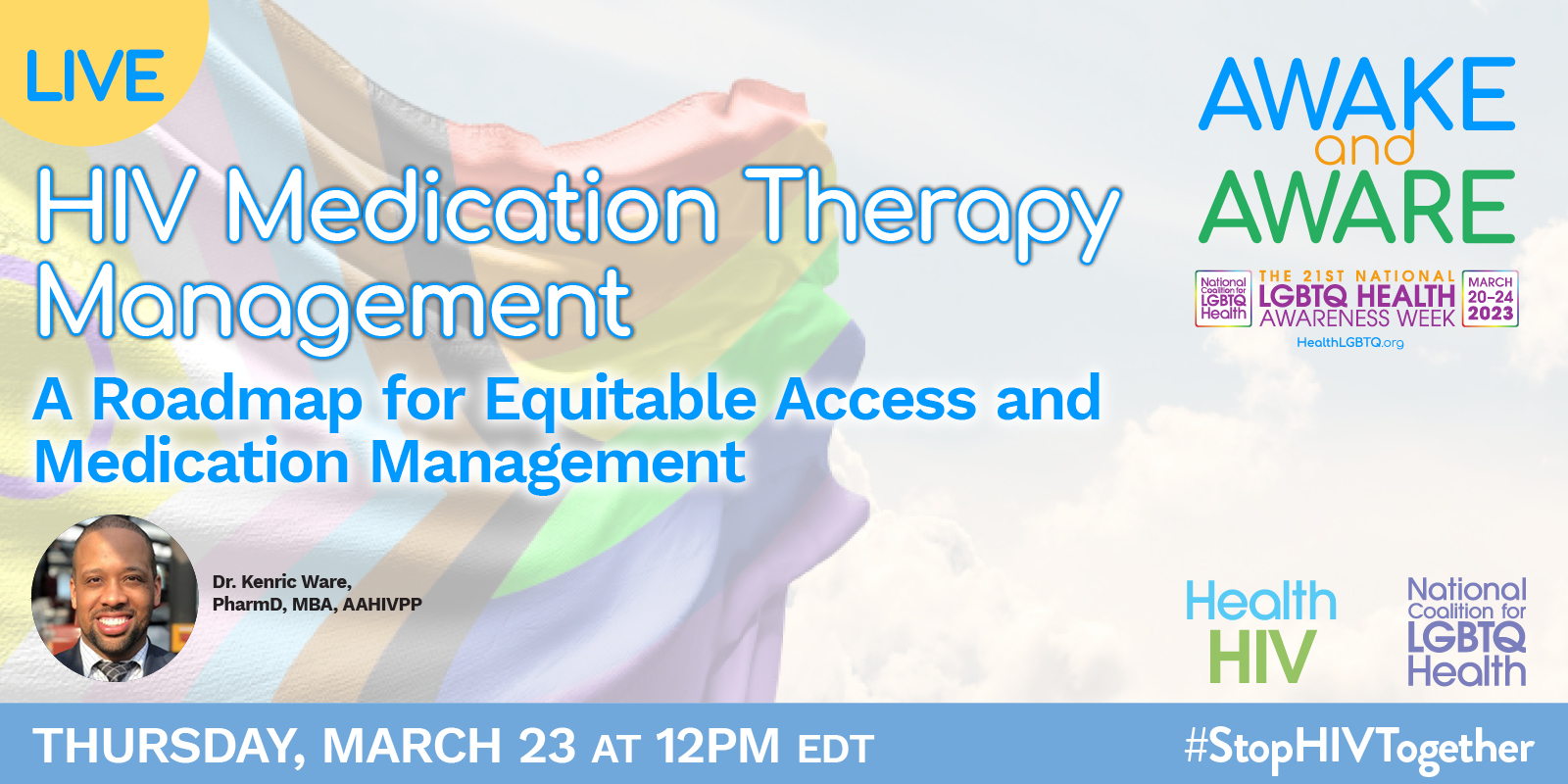 You are invited to join @HealthHIV and @Health_LGBTQ during National #LGBTQHealth Awareness Week for a LIVE webinar on #HIV Medication Therapy Management and health equity. Taking place on 3/23 at 12:00pm ET. Register: https://event.on24.com/wcc/r/4140971/3798C6C888AD028FCB226A6D9F72CCB6
Join @Health_LGBTQ and @HealthHIV for a LIVE 90-minute webinar where faculty will present on Health Equity and the Medication Therapy Model (MTM) for medication management. Happening on 3/23 and geared towards community pharmacists primarily at HBCUs: https://event.on24.com/wcc/r/4140971/3798C6C888AD028FCB226A6D9F72CCB6
Community pharmacists and pre-career students attending an #HBCU are encouraged to join "HIV Medication Therapy Management: A Roadmap for Equitable Access and Medication Management," a webinar happening on 3/23 during National #LGBTQHealth Awareness Week: https://event.on24.com/wcc/r/4140971/3798C6C888AD028FCB226A6D9F72CCB6