The theme of the 20th National LGBTQ Health Awareness week, "Live Out Loud," encourages everyone to speak openly about LGBTQ health, providing an umbrella under which to discuss and raise awareness of mental health, trans health, and ending stigma through accessible, affirming, and inclusive healthcare services so that everyone can fully live their truth.
This promotional toolkit can help raise our collective voice against those telling us, "Don't Say Gay." Please join us in shouting "Gay" OUT LOUD as we LIVE OUT LOUD for LGBTQ Health!
The Coalition has created a boutique of on-demand items you can use to adorn your office, decorate your coffee table, and say OUT LOUD that you support LGBTQ Health. So make a bold statement and order your National LGBTQ Health Awareness Week merch today!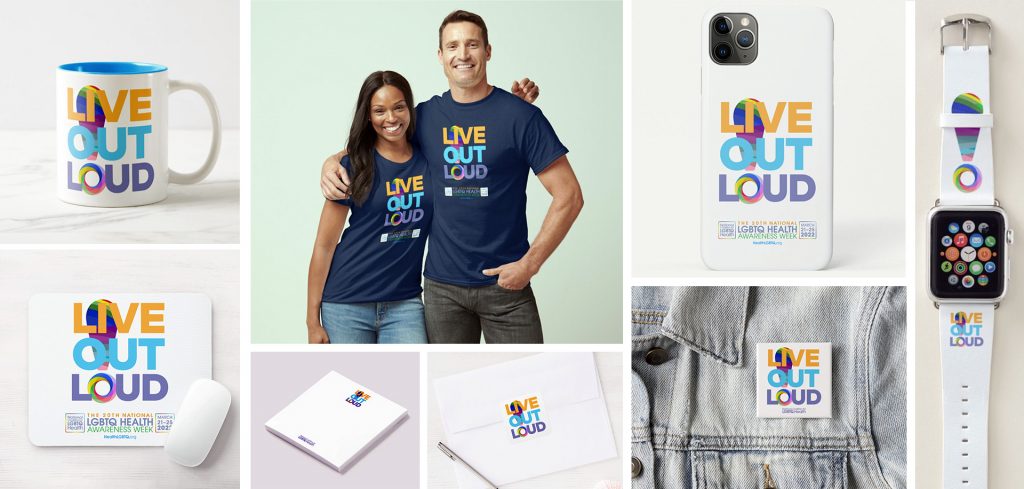 These Live Out Loud print files are formatted for popular sizes from posters to stickers, and provided in ready-to-print PDFs.
Support and Share
Let the world know you support LGBTQ health. Share these images and use the hashtag #LGBTQHealth to join the conversations let let the world know about the 20th National LGBTQ Health Awareness Week.
Right-click on the image to download to your device.
Follow Along
Facebook: HealthLGBTQ
Twitter: @Health_LGBTQ
LinkedIn: National-Coalition-for-LGBTQ-Health
Get the Message Out... Loud.
Each day of National LGBTQ Health Awareness Week will focus on a specific area of LGBTQ Health. Here are a variety of sample social media posts you can use to get the conversation started.