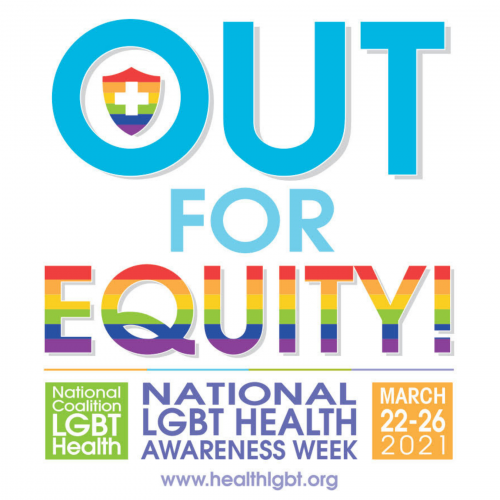 National LGBTQ Health Awareness Week 2021
NATIONAL LGBTQ HEALTH AWARENESS WEEK— MARCH 22-26—WAS ONE TO REMEMBER!
This year for National LGBTQ Health Awareness Week more than 1,700,000 people were OUT for Equity.
Led by the National Coalition for LGBTQ Health, this Week was a chance to speak OUT for Equity, to be OUT for Equity, and to live OUT for Equity! The theme, OUT for Equity, was focused on health equity and bringing LGBTQ voices to the table.
Social media was abuzz, the webinars were packed with information and attendees, and National LGBTQ Health Awareness Week reached more people than ever before. 
Click here to view the At-A-Glance for this year's week.
Thank you to all who participated! 
The Coalition developed a toolkit to help you and your organization recognize this week. The Toolkit contains ready-made social media posts, graphics, and printable images that you can use to tell the world you support National LGBTQ Health Awareness Week and that you are #OutForEquity. Click Here to access the toolkit.
Building a better healthcare system that expands on equitable access and utilization is a common goal across all communities. Yet, Lesbian, Gay, Bisexual, Transgender, and Questioning or Queer (LGBTQ+) persons often have distinct health needs of their own.  
In fact, LGBTQ+ people can face issues that reinforce societal stressors and stigmas even from within the healthcare system.
To address this issue, Stanford Medicine developed the "Teaching LGBTQ+ Health" Course, a faculty development course for health professions educators.
This webinar will discuss the need for and importance of aligning prevention and care delivery with existing evidence-based, culturally sensitive standards of care for LGBTQ+ patients. The course itself is meant to improve knowledge, teaching skills, and attitudes pertaining to the provision of healthcare to LGBTQ+ patients. The presenters will highlight the production of the course, including the partnership of instructional designers at Stanford Educational Technology with physician co-authors. Features of the interactive, online platform will be demonstrated.
FACULTY
Michael A. Gisondi, MD
(he/him/his)
Associate Professor and Vice Chair of Education
Principal, The Precision Education and Assessment Research Lab
Department of Emergency Medicine
Deila M. Bumgardner  
Lead Learning Designer, Educational Technology  
Stanford Medicine

Shana Zucker, MD/MPH/MS (cand.)
Co-Author
Medical Student
Tulane School of Medicine
Timothy Keyes, MD, PhD (cand.)
Co-Author
Medical Student
Stanford School of Medicine 
This webinar will cover the following topics:
New requirements in private insurance—including individual, small group, large group, and self-insured plans—to cover PrEP without cost-sharing (copays or coinsurance)
Social determinants of health and their real-world impact on PrEP access and utilization
Connection between awareness of PrEP and ongoing access to and utilization of PrEP in Black and Brown communities
Coverage restrictions, prior authorizations and increased PrEP non-adherence
PRESENTERS
Scott Bertani
HealthHIV
Director of Advocacy
Carl Schmid
Executive Director
HIV+Hepatitis Policy Institute
Mauda Monger
Chief Operating Officer
My Brothers Keeper

Raul Arauz
Health Advocate
Experiences in Accessing PrEP