Payments, Protections, and Policies Impacting Access to LGBTQ Healthcare
Lesbian, gay, bisexual, and transgender (LGBTQ) persons historically have faced significant barriers to healthcare, including stigma, discrimination, lack of culturally-competent providers, lack of health insurance, and inability to pay, and other socioeconomic determinants. While many LGBTQ individuals have gained access to health insurance through the Patient Protection and Affordable Care Act (ACA), the current Administration has worked hard to undermine these gains in coverage.  
This webinar will examine current regulatory and policy changes affecting LGBTQ patients' out of pocket costs, and access to affordable medications and medically necessary care. 
Faculty from the National Coalition for LGBT Health, Transgender Law Center, and Avalere Health will provide the latest information on healthcare reform and what to expect during next 12 months. The webinar also will provide recommendations on how you and advocate for LGBTQ healthcare access.
Learning Outcomes
Summarize the impact of the recent Notice of Benefit and Payment Parameters (NBPP) and CoPay Accumulator Programs.
Discuss the Medicaid Program; Establishing Minimum Standards in Medicaid State Drug Utilization Review (DUR) and Supporting Value-Based Purchasing (VBP) for Drugs Covered in Medicaid, Revising Medicaid Drug Rebate and Third Party Liability (TPL) Requirements and its impact on patient out of pocket costs and pharmaceutical discount cards.
Identify the most recent policies/court rulings and their implications on LGBTQ healthcare access.
Recognize how recent modifications of ACA Section 1557 rule and the new HHS' ruling affect today's state of transgender health access.
Provide recommendations on how to advocate for LGBTQ healthcare access.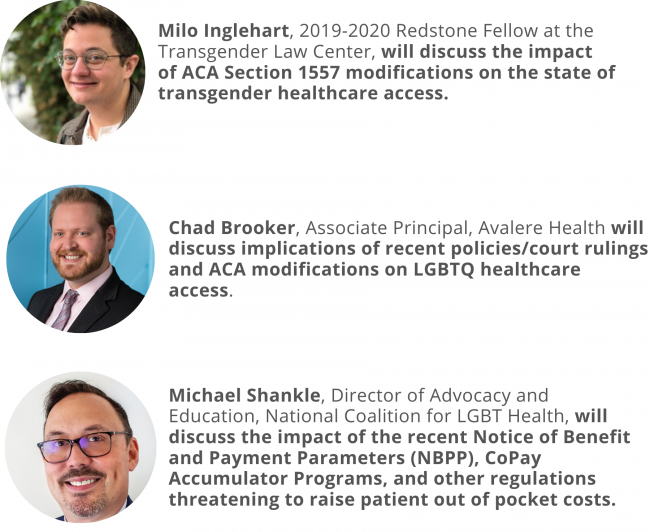 To access a recording of a webinar:
To access a recording of a webinar:
The Impact of COVID-19 on the LGBTQ Community
Thursday, March 26, from 2pm to 3pm EST.   
On March 26, 2020, the National Coalition for LGBT Health held a webinar on "The Impact of COVID-19 on the LGBTQ+ Community" as part of National LGBT Health Awareness Week. COVID-19 and its unprecedented public health response has certainly impacted our lives in ways we would not have imagined just a few weeks ago. This timely webinar highlights the response of LGBTQ+ community groups and health centers as they support LGBTQ+ communities during this crisis. Speakers explored unique issues for the community, innovative practices in responding to needs, how traditional programming has been modified to meet community needs, and other challenges impacting LGBTQ+ health.
Presenters include:
Anthony Fortenberry, CNO, Callen-Lorde Community Health Clinic 

Kimberleigh Smith – Senior Director of Community Health and Family Planning, Callen-Lorde Community Health Clinic 

Debbie Ojeda-Leithner, Policy Advocate, National Center for Transgender Equality 
Quentin Bell, Executive Director, The Nights & Orchids Society 
Tyler TerMeer, CEO, Cascade AIDS Project 
Dylan Waguespack, Public Policy and External Affairs Director, True Colors Fund 
Aaron Tax, Director of Advocacy, SAGE
Elizabeth Weglein, CEO, Elizabeth Cooney Care Network 
Julie Kruse, Director of Federal Policy, Family Equality Council 
Michael Shankle, Senior Director of Capacity Building, National Coalition for LGBT Health 
Elaina Perry, Project Associate, National Coalition for LGBT Health 
Neal Mody-Bailey, LGBT Intern, National Coalition for LGBT Health
To access a recording of a webinar: